Rowes Wharf
10 - 20 Rowes Wharf
2 Residential Buildings
10 Rowes Wharf – 12 Floors
13th – 14th Floor Penthouses
20 Rowes Wharf – 7 Floors
8th Floor Penthouses
96 Units
Built in 1986
24/7 Concierge
Central AC/Electric Baseboard Heat
Staffed Health Club with Indoor Pool
Boston Harbor Hotel is Located in the Main Tower
Hotel Amenities Include 24 hour Room Service and Maid Service
Valet Parking and Self Parking
Available Below Main Tower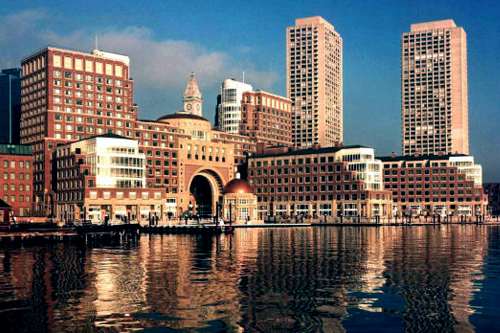 Discover Rowes Wharf, sophisticated waterfront living on Boston Harbor. Rowes Wharf offers residential concierge which is located in the main residential lobby in the Atlantic Avenue Building and operates 24 hours a day, seven days a week. The uniformed concierge is responsible for greeting residents, accepting small package deliveries, taxi services and maintenance or repair services within your suite.
The grand arch, golden-domed pavilion and lively super yacht marina of Rowes Wharf stand at the base of the harbor, your gateway to business and pleasure in the city. All of the Boston Harbor Hotel amenities are available to residents with the added flexibility for signing privileges for hotel dining. The residential units overlook the majestic waterfront, ideally located across the street from the Financial District; two blocks from the New England Aquarium and the Boston Tea Ship Museum; and three blocks from Faneuil Hall Marketplace and the historic Freedom Trail.
The Rowes Wharf Health Club & Spa feature a 60-foot lap pool, a large whirlpool, aerobics room, exercise equipment, fitness classes and personal trainers. Private locker rooms include dressing areas, sauna, steam, massage and spa treatment rooms.
Rowes Wharf is professionally managed by Equity Office Properties.
This listing information is given in good faith and deemed reliable but is offered subject to errors and omissions.